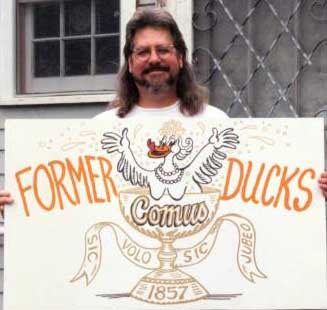 From a tiny, bead lined, nest hidden under a shotgun double in New Orleans, emerged a flock of Ducks that would be christened the "Ducks of Dixieland".
Laid In 1985, co-workers Anthony Eschmann and Phil Martin shared their love of Mardi Gras and good times with New Orleans and the world.
Feeling they could provide satiric and imaginitve costumes to Mardi Gras, the "Ducks" have become one of the most anticipated Marching organizations of the carnival season.
"Former Ducks of Comus"
1995